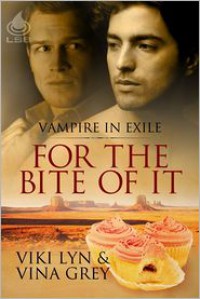 Where's the rest of the book? I mean that sincerely. I can't believe it really just stopped where it did. I thought my ereader was just screwing with me at first. I'm really sad there's not more. As it stands, the book is just being a cocktease.
Other than that, pretty cute read. I kept forgetting the one guy is a vampire, but I liked him and his emo piano playing :3 I swear those two were making things as difficult as they possibly could, which is always the fun part. I did like that the case was not the center of everything: it got things started, got them together, but it wasn't like a huge, complicated mystery about bodies drained of blood and all of that. I liked he ran a poncy cupcake shop, and that John was just an ordinary guy with ordinary problems (and most of them of his own making because he's stubborn and over stresses himself, like most people I know).
All in all, not a bad book by any means--except I really wanted to throw my ereader across the room when I realized that really was the end. There were still things that needed to be tied up/resolved, and now we'll never know (unless I missed somewhere there's another book, in which case the only problem is that I continue to be impatient).